We've just published a note on our facebook page
Kipling bags @ rtherapy
detailing the new colours Kipling will be launching in 2011... I thought I'd share them with you here as well
As we move into 2011 (Happy New Year to all!) I thought it was an opportune moment to let you know what's heading your way from Kipling for Spring Summer 2011. If you've been following us at
www.rtherapyclothing.co.uk
you will have seen that we have already had the first phase of the new Kipling 2011 collection arrive! In the Kipling Basic Collection this has included new colours such as
Antique Fushia
,
Monkey Brown
,
Columbia Blue
and
Lavender Grey
and some great new styles including the Fairfax L and New Candy. We've produced some video clips of these new colours and bags, so if you would like to see them in more detail just visit our youtube channel
http://www.youtube.com/user/rtherapy1972
.
As we move into Spring 2011 Kipling will drop some new colours into the range including
Soft Beige
, a lovely soft pink called
Pastel Pink
and a deeper pink going by the name of
Jazzy Pink
and a lush jade colour called
Jazzy Green
. The Jazzy Pink and Jazzy Green will also include a striped version as shown below. We'll let you know when we have delivery dates for these new colours.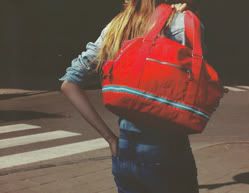 The 2011 Kipling IF collection has also started to arrive and the new colours Dazzle and Stripy have been very popular. Kipling have looked to produce a really great new colour/pattern combination for the second phase of the 2011 IF collection, with the inclusion of Scooba! I think it really adds some colour to the collection and the blues and reds perfectly capture that summer feeling. All we need to do now is get the next few months out of the way and hit the beach!
Keeping watching this space and we will have more info and news on the other collections from the new Kipling range soon.
Hope you are all having a great start to 2011
Brett